This Thursday, May 25, the new movie of the most dangerous and crazy pirates of the seven seas with Thwaites as Henry Turner opens on the big screen.
This Thursday you have a date with the most dangerous and fun pirates of the seven seas, Pirates of the Caribbean: Salazar's Revenge. This new story directed by Joachim Rønning y Espen Sandberg follows the new adventures of the capitán Jack Sparrow and his confrontation with the fearsome Captain Salazar, but they will not be alone and it is that two new young people join the saga: Brenton Thwaites and Kaya Scodelario.
Disney has invited us to an unparalleled event at Disneyland Paris in which we have been able to meet Thwaites and find out who is behind the role of Henry Turner. A young Australian who has lived in Los Angeles for a short time, fame and the constant meetings in the city forced him to move to start a film career that is currently being very successful, one in which he tries to follow in the footsteps of other compatriots like McGregor or Rush himself.
When the first film was released you were very young, what does it mean for you to be part of a saga as famous as this?
It meant that he already knew this world, already knew everything about them and had studied them. I have grown up with movies, with the excitement and adventure of playing and imitating these characters at school. Take a stick and play with my friends imagining that we were pirates like the ones in the movie … When I got the opportunity to audition it brought back many memories of when I was little, it was a lot of fun.
Did you get any advice from Orlando Bloom, your father in the movie?
No, but he explained to me what it was like to shoot the first three movies. I kept asking him things about them, from what it was like to shoot with Keith Richards to other crazy things, but he kept asking him to tell me more and more. I think in the end he was tired of me. But I just wanted to know how the first installments were because they are the ones I grew up with, and he was very sweet in everything, explaining how different those shoots were from this one. For example, they were shooting mostly on location and this has been in a studio. In addition to traveling to different places such as Hawaii, Puerto Rico or the Caribbean.
You filmed in Australia, your home …
Yes, we shot pretty much everything in Australia, I was at home. I was literally at home which is great because we had so many Australian extras. There were a lot of people working on the set whom I already knew from school and the School of Dramatic Art, and others whom I had seen on television.
What has it been like to shoot with Orlando as your father when the age difference is not so wide between the two?
The film begins with my character at the age of nine in his meeting with Will, at that moment you see the passage of time in the skin of Orlando's character, so the relationship between the two is very credible in the timeline, it makes sense. Also, one of the most important time jumps occurs at that moment when we move forward ten years, since that is when Willi will have another opportunity to go ashore for a short time. This timeskip shows my character fighting for the same things as an adult and as a child, as if he only had one goal in life, both with 9 years and 19. His fight is to save his father and free him, so that we never feel like I'm very young or very old.
Kaya Scodelario's character is also new …
Yes, she is in most of my scenes. We both had very good story arcs that didn't start out too well and with completely different ideas and goals, but as the film unfolds we realized that we were both fighting for the same thing: finding our parents to connect with ourselves.
What are your movie influences, musical and literary?
I love watching movies where you can see the transformation of the characters. Movies like this where you see Johnny as Jack Sparrow, as someone completely different from him and his previous characters. Love it. I also like to see Javier Bardem, he is one of my favorite actors. I've seen movies like Ham Ham O No country for old men,… he always creates strong and interesting characters. It's something that you also see in Daniel Dae Lewis, Geoffrey Rush, Jeff Bridges or Ewan McGregor, fantastic actors who give the character strength while keeping his vulnerability on the surface, in a way that we perceive it but it fits the role.
In musical terms, the musicians who inspire me the most are those who make blues, because I consider that they sing with their hearts, that they tell stories through music. I like the feelings that these types of songs provoke in me more than the technical aspects of the songs themselves. Of course, I love AC / DC too, they do manage to make me feel. Regarding literature, my favorite author is Tim Winton who has written many books, one of my favorites is Cloudstreet.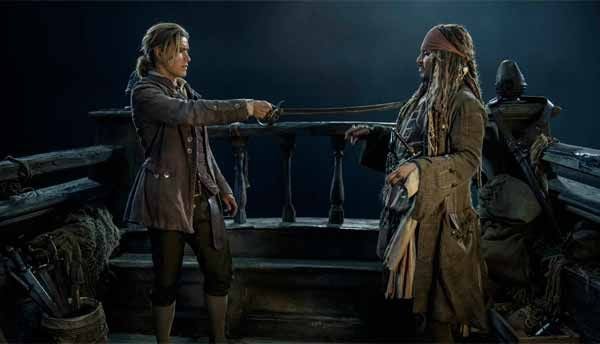 Do you remember the moment when you saw the first movie in the saga, Pirates of the Caribbean: The Curse of the Black Pearl?
I don't remember when I saw the movie, but I do remember what I felt when I saw the trailer. In that preview Geoffrey Rush appears behind the stairs saying, 'Do you believe in ghosts, Ms. Turner? Because you're in one. ' At that moment he pushes it out and under the moonlight it is discovered that all the crew all turn into skeletons. This was one of the first movies where I saw that technology and I was very impressed with the way they made those skeletons. Now we look at those movies and it looks like the CGI technology is from the 1920s, but at the time it was a milestone.
What has it been like to shoot with great personalities like Depp, Bardem or Sir Paul McCartney?
The moment that struck me the most was when we were all in the same boat, it is one of my favorite parts of the shoot. When all the pirates, the Spanish monsters, Javier, Geoffrey, … moments when I looked around me and was amazed to see that there were so many good actors together in such a small space.
Have you signed for more movies of Pirates of the Caribbean?
I don't know because I don't think that far, I sincerely hope so because I would love to do another one.
Many Thanks To The following Website For This Valuable Content.
Brenton Thwaites ('Pirates of the Caribbean'): "When I was little, I played at being a pirate like Jack Sparrow" – Movie News