Over the past year, the word pandemic has been inflected for all cases and continues to cause fear in society. We already know a lot about our enemy, that he can change (mutate), we are equipped with vaccines and most importantly – we are not defenseless. Today, however, fear is not only the virus itself, but also the effects of falling ill with COVID-19. How to protect yourself from pocovid syndrome and make the body fully recover after the disease?
Pocovid syndrome
There are two types pocovid syndrome. The first, the so-called PCS (post COVID-19 syndrome) is defined as the ongoing syndrome of symptoms in patients who have recovered from being infected with COVID-19. The second is Pocovid syndrome in children, the so-called PIMS (pediatric inflammatory multisystem syndrome temporally associated with SARS-CoV-2). As in the first case, it is a complication after COVID-19. The reason is the reaction of the children's immune system to the presence of the virus. PIMS appears 2-4 weeks after infection and may also be asymptomatic after suffering from the disease.
The causes of pocovid syndrome in adults are:
lung failure

post-infection immunosuppression – that is, decreased immunity,

complications of comorbidities,

pulmonary fibrosis.
Most patients have mild or asymptomatic disease, while 5–8% of infected patients develop respiratory distress syndrome. Does this mean that the vast majority of patients may not consider PCS to be affected? Unfortunately, any survivor can develop pocovid syndrome.
Symptoms of PCS
Let's take a look at the problems and symptoms that patients with PCS may face:
exercise-induced breathlessness

chronic dry cough,

exercise limitations,

reduced quality of life,

symptoms of myocardial damage, including heart failure and myocarditis, or the worsening of an existing cardiovascular disease

changes in the sense of smell and taste

the so-called brain fog, described as difficulty concentrating, difficulty concentrating, and difficulty remembering.
How to fight with pocovid syndrome?
Currently, the role is underlined all over the world physical activity in return to fitness. People who have undergone COVID-19 can benefit from rehabilitation reimbursed by the National Health Fund up to 12 months after the end of COVID-19-related treatment. As we can read on the website of the Ministry of Health and the National Health Fund website, rehabilitation lasts from 2 to 6 weeks, and patients can count on the care of a doctor, nurse, psychologist and physiotherapist. The program includes, among others, endurance training classes, breathing exercises, effective coughing exercises, general fitness exercises, outdoor exercises, terrain therapy, walking training and relaxation training.
The importance of the recovery movement has been proven by British scientists whose research results were published in the journal "Chronic Respiratory Diesease". The study was completed by 30 participants who took part in rehabilitation classes twice a week for 6 weeks. Everyone has experienced health effects after contracting COVID-19. The program included aerobic exercise such as walking or treadmill activities, as well as strength training for the arms and legs. The results show a significant improvement in exercise capacity. The subjects felt an improvement in general well-being and cognitive functions. During the program, none of the participants experienced side effects. Therefore, it can be concluded that physical activity individually adjusted to the patient's health condition is a safe and effective form of rehabilitation in pocovid syndrome.
Another study looked at the effects of COVID-19 on muscle function, exercise, mood and sleep quality. The study included 48 COVID-19 participants, who were followed up for 12 weeks. Muscle weakness was observed in 35.4% of the participants. The physical activity rate was low in 39.6%, moderate in 33.3%, and high in 27.1% of the participants. Anxiety, depression and poor sleep quality were observed in 33.3%, 29.2% and 50% of the respondents, respectively. This shows how great is the need for intervention and the inclusion of activity and relaxation techniques in convalescents.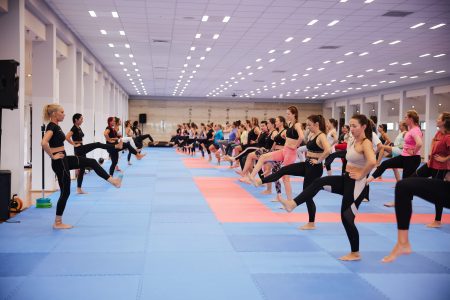 Back to activity
There is no single schema based on scientific evidence that would define the ideal way to get back into activity for every healer. The key to success is caution and gradually increasing the intensity of your training. Individualized exercises based on the patient's subjective tolerance will allow to obtain the best results and minimize the risk of complications.
In the recommendations for British doctors, we can read recommendations for starting exercises at least seven days after symptoms have resolved, of which a gradual return to pre-disease activity levels or higher is recommended. If the patient was not physically active prior to COVID-19, it is recommended that you make a lifestyle change to become more active. In people who experience recurrence of symptoms such as cough, shortness of breath, palpitations, fever and changes in smell and taste, it is recommended to stop exercising, seek medical advice if necessary, and restart the process of returning to activity after the symptoms have resolved. Grading your exercise progression includes lengthening the duration of your training session and increasing the intensity of your exercise.
My advice to convalescents:
set a goal and evaluate your possibilities,

if you have no symptoms, start with walks, light activity and gradually increase your digestion time and training intensity,

measure your strength on intentions – if you experience discomfort and shortness of breath during exercise – consult a doctor and reduce the intensity of training,

were you not active before COVID-19? Now is a good time to start. At the beginning, walks will be a good solution for you!
You all know how important physical activity is in everyday life. It not only allows you to enjoy a beautiful figure, but also provides endorphins, thanks to which we can stay healthy, influence our immunity or improve efficiency. It is for this reason physical activity is an important element of rehabilitation in the postovid syndrome. Each of you, if you have had COVID-19, may have had different experiences, ranging from no symptoms to hospitalization. Regardless of this, it is recommended for all convalescents to return to activity, based on their individual abilities. Do not postpone health for later!
Bibliography:
Daynes E, Gerlis Ch, Chaplin E, et al. Early experiences of rehabilitation for individuals post-COVID to improve fatigue, breathlessness exercise capacity and cognition – A cohort study. Chronic Respiratory Disease. 2021; 18: 1–4

Oronsky B, Larson Ch, Hammond T, et al. A Review of Persistent Post-COVID Syndrome (PPCS). Clinical Reviews in Allergy & Immunology. 2021

SalmanD, Vishnubala D, Le Feuvre P, et al. Returning to physical activity after covid-19. BMJ. 2021; 372:472

Tanriverdi A, Savci S, Kahraman B, Ozpelit E. Extrapulmonary features of post-COVID-19 patients: muscle function, physical activity, mood, and sleep quality. Irish Journal of Medical Science. 2021
We would love to say thanks to the writer of this write-up for this amazing material

Physical exercise and the postovid syndrome