Home office, gym closure, lockdown made us practice at home more and more often. However, it turns out that completing a home gym is not that easy. That is why today I will tell you what to choose to achieve good training results in your own apartment. Interested? Excellently! I invite you to read 🙂
Our body is also a gym
Bodyweight training is well known, and all exercises are safe and highly effective. I especially recommend this form of training people starting their adventure with physical activity. For the training to be effective, you should pay attention to one important element, namely – constantly increasing the degree of difficulty. How to do it?
You can systematically increase the number of repetitions or series. An interesting solution may also be to change the pace of each exercise, for example, lower the body to a squat for 3 seconds and get up for 1 second, or lower the body and sit for 10 seconds. Research has shown that this solution has a positive effect on muscle dynamics. You can also introduce training high intensity interval (HIIT – not only during cardio). Remember that in my application you will find many plans to enter the next level of body-weight training. Of course, over time, your body will grow stronger and will need more to continue to develop. Then you can add equipment, thanks to which you will also complete your own gym.
Appliances
If you have a large house, it will certainly not be a problem to find a place for equipment, while if you live in a small apartment it may seem problematic, but there is no reason to worry! You only need a few things to create a mini version of the gym for any size.
The most important rule is universal equipment, which allow you to perform many different exercises. The choice is really wide:
1. Mini band rubbers – must have! They take up little space, and the effects of their use are amazing! They are suitable for beginners and advanced people. They perfectly isolate the muscles, strengthen and sculpt the figure.
2. TRX tapes – you don't need to introduce them to anyone, they're great! Also, their storage does not take up much space, they are inexpensive and can be used to exercise many parts of the body.
3. Kettlebell or dumbbells – multifunctional load, you can do deadlifts, squats or work out the abdominal muscles with them. They will prove themselves at every stage of advancement. However, I especially recommend twisted dumbbells, thanks to which you can regulate the load and increase the effectiveness of training.
4. Barbell – it will make you "enter" to a higher level of training, especially strength training. When using a barbell during training, the whole body works, thanks to which we will get a great athletic figure. In addition, we can put a very heavy load on the barbell, which gives it an advantage over dumbbells. On the other hand, barbells are not recommended for people who start their adventure with physical activity, because this equipment requires technical skills, which we may still lack at the beginning.
5. Old, good jumper – it is associated with children's games, but in fact it is a must-have for a home gym. Skipping rope will help you build fitness, warm you up before training, but also help you lose unnecessary kilograms or shape beautiful legs. It is definitely equipment for everyone.
6. Exercise mat – very useful during the training itself, warm-up or stretching. Exercising on a cold floor is not comfortable, so the mat should be present in every home.
7. Roller – massage roller, which is a great complement to stretching, but also works well when warming up. Rolling taut muscles relaxes them, improves their flexibility and contractility. However, when used as a warm-up, it will warm up the muscles and prepare for exercise.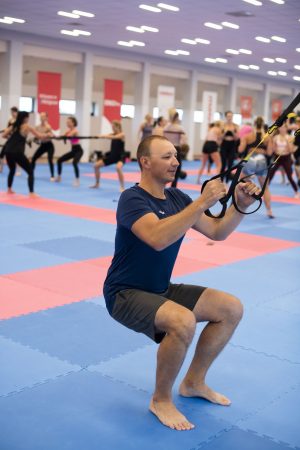 Remember that the most important advantages of a home gym are time saving, independence and easy access to equipment. Of course, there is no need to buy all the equipment at once, but it is worth considering what training you want to do. The choice of exercises that can be done at home is huge and it is worth taking advantage of it. Some equipment can be taken with you on vacation or a business trip if you do not want to interrupt your training continuity or you like active holidays. For beginners, a mat and a roller are enough, and training with the use of all the above-mentioned equipment can be found in my Diet & Training by Ann application, which can be downloaded HERE 🙂
We would like to say thanks to the writer of this article for this outstanding content

Home Gym: Equipment Worth Having!