The first scene of Nine Perfect Strangers It's a close-up shot of fruits spinning in slow motion in a blender. It is an easy metaphor, served in a brunch restaurant cuqui jug, that reminds us that the Hulu series (which has been released by Amazon) has several of the ingredients of Big Little Lies in your recipe. But don't expect the same result.
With Nicole Kidman as the protagonist, David E. Kelley adapt again a novel by Lianne Moriarty, in a story with which, if we wanted, we could assume an analytical stance. We could say that it is a criticism of the rhetoric of well-being, a certain lifestyle of a privileged group and problems typical of today's society, but with that we would only be adding vitamins and proteins to the original recipe of the series.
Kidman is by itself sufficient claim, but if there is something lacking in this series, it is moderation. In their irresistible cocktail they are also Melissa McCarthy, Michael Shannon, Regina Hall, Bobby Cannavale, Luke Evans, and other lesser known names, but with recognizable faces. They all play characters with an emotional baggage strategically designed so that the revelation of their past traumas, that is, the reason that brings them to Tranquillum House, becomes crazy twists of the script.
Tranquillum House is a select health and wellness center that guarantees its clients a total transformation, if they follow the protocol with discipline. During their stay, they are under total surveillance, they are subjected to blood tests, their cell phones are taken away, their food is controlled and they are forced to sign a confidentiality contract. At the helm of this exclusive and revolutionary center is the enigmatic Masha (Kidman), who always appears on screen with a mystical halo, as if she were Galadriel from The Lord of the rings.
The nine perfect strangers referred to in the title, neither are they perfect and neither are they unknown, because between them there is a couple and a family. But as subjects of an experiment to which they will give their consent, they make up an attractive group that initially only have in common skepticism about the practices proposed by the center. They may not find what they wanted in Traquillium in the end, but they do find what they need.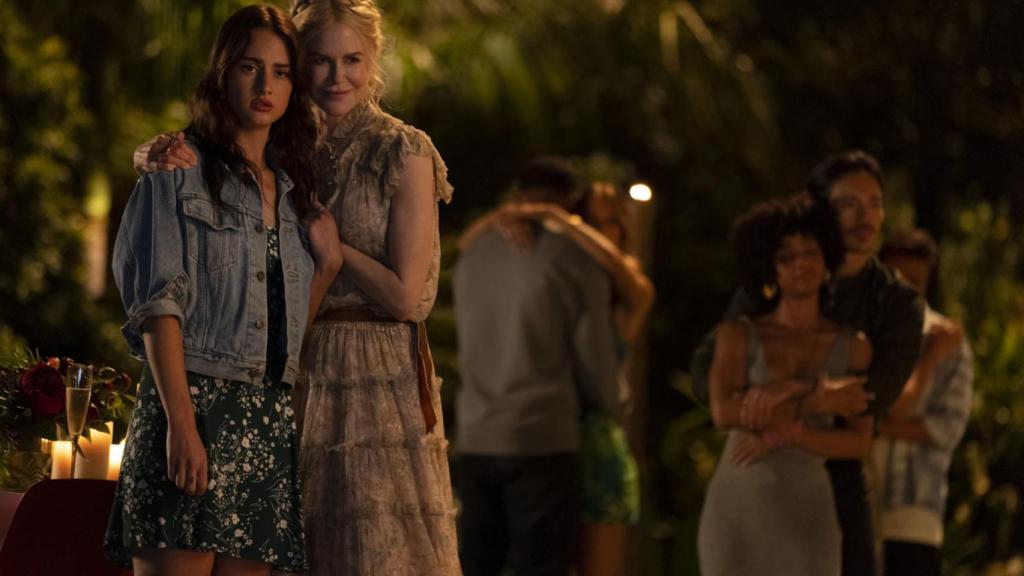 The baggage you have from each of those nine urbanites is different enough to keep our interest when the story stops at one of them, to explore their particular traumas or the goal they want to achieve at the end of their ten-day retreat. Interspersed with this choral process, we will also see some flashes from Masha's past, whose great irony seems to be that she has not found the path of healing for herself.
But don't worry, what this doesn't turn into serious drama at any point. There is a sequence in which a tiny man who sings Money from Cabaret is thrown into the toilet bowl, and Masha who, by the way, is Russian, receives death threats through anonymous messages, has lovers at the center and a past in common with one of her clients / patients, of which none of the two people involved speak until the sixth episode. And well, we know what we've come for from the startBecause in her character introduction scene, Melissa McCarthy speaks alone in the car, that's a declaration of intent.
We have been able to see six episodes of the eight that the series has and I do not know where it is going in its resolution. I also don't care because, like the nine perfect strangers, you never really know what Masha is doing, but once you are there, you are not going to leave the treatment in the middle. Nine Perfect Strangers it's more The Undoing that Big Little Lies; its main intention is not to make social commentary or satire, it is to entertain. And that fruit smoothie works out really well for him.
The first three episodes of 'Nine Perfect Strangers' premiere on Friday, August 20 on Amazon Prime Video.
You may also like…
• Review: 'El Reino', Netflix's most addictive series for this hot summer

• Review: 'Schmigadoon!', The best comedy premiere of the summer is a gift for fans of musicals

• What is 'Los vancidos', the series by the creator of 'Bron / Broen' about Berlin after Nazism that Netflix premieres

Follow the topics that interest you
.
Many Thanks To The following Website For This Valuable Content.
'Nine Perfect Strangers' is not the new 'Big Little Lies', nor does it want to be, it is much more entertaining