THE JUNGLE BOOK
Original title: The Jungle Book
Year: 2016
Duration: 105 minutes
Country: USA
Address: Jon favreau
Script: Justin Marks (Libro: Rudyard Kipling)
Song: John Debney
Photography: Bill Pope
Distribution: Neel Sethi
Producer: Walt Disney Pictures / Fairview Entertainment / Moving Picture Company (MPC)
Gender: Adventure / Fantasy / Animation
Synopsis: Mowgli, a boy raised in the jungle by a pack of wolves, goes on a fascinating journey of self-discovery when he is forced to leave the only home he has ever known in his entire life. New adaptation of the novel by Rudyard Kipling. (FilmAffinity)
Unlike in 'The Lion King', came to 'The jungle book' without having seen the original animated film. While in Simba's story I was able to compare the tape of Jon favreau with the original animation, here I have no prior reference. This, I insist, may make my assessment of this film inflated, but it helps not to have seen the original version to assess the first of the live action films of Disney.
The story, I suppose it will be the same, places us in a jungle where a little boy is raised by a pack of wolves. After being threatened by a tiger, he has to abandon "his family" and head for the human village. Reluctant to leave what has been his home for his entire life, little Mowgli will have endless adventures in the company of a bear, a panther, a snake, monkeys and many more animals.
I imagine the original version was more innocent, more colorful, but with this 'The jungle book' I have come across a dark movie. Mowgli is about to die several times, the animals are playing it and want to take advantage of him. And to make matters worse, the home where he grew up is about to take over. The poor kid is going through an ordeal and also wants to continue living there, among his own. Because the family chooses himself, and he chooses to live among animals.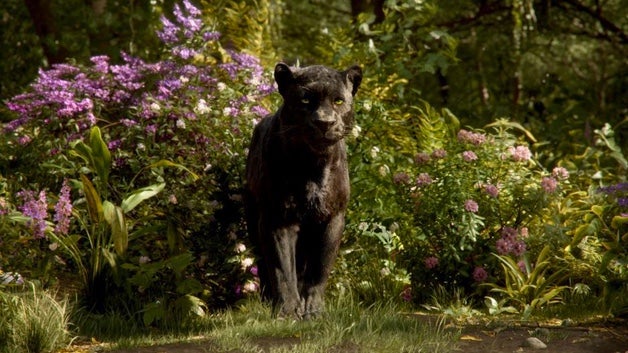 Technically, as it happened with 'The Lion King' this movie is at a very high level. The realism with which the animals are portrayed, the small details of the hair, the teeth, the eyes, leave the viewer open-mouthed. It helps that everything is not treated from the most absolute realism. Unlike in Simba's story, here Jon favreau leaves more room for fantasy. Animals have behaviors closer to humans.
I read around that the treatment given to some characters has changed. The tiger is charged apart from the wolf pack, King Louie behaves like a villain, etc. I insist that I have not seen the original, but they fit the tone of the story perfectly. It is credible that this story ends with victims. Let's see, we are in the jungle, the animals kill each other to feed and survive. They are not going to live in a lollipop world.
In this way, the central arc is the weakest of all, leaving the approach and the end more realistic, like the true lucid moments of the film. An interesting story that, as happened to 'The Lion King', is lost amid so much technical virguerity, leaving the story somewhat more burdened. But, yes, visually it is so powerful that although it is not such a striking story, it is enjoyed like a dwarf with it.
The best: The technical section and the sought after dark tone.
Worst: The central arch, although necessary, becomes somewhat heavy.


Many Thanks To The following Website For This Valuable Content.
'The Jungle Book (2016)': it helps not to have seen the original version