Screened in the first days of the festival we wanted to save space for what we think is the great Venice film 2021: 'The Card Counter' by Paul Schrader. In addition, we are talking about 'Tres', the desynchronized filigree by Juanjo Giménez.
In 2016, I had the enormous privilege, within the framework of the Sitges Festival where I was presenting Como Perro Salvaje (2016) with Nicolas Cage, of being able to interview maestro Paul Schrader. We talked about many things: his Calvinist childhood, Peter Biskind's book, the structure of his biopic of Mishima, the time when he wrote Taxi Driver (1976) and, of course, one thing that had always obsessed me: why he had put the same ending, copied from Robert Bresson's Pickpocket (1959), in two of his films: American Gigolo (1980) and Possibility of escape (1992). Schrader smiled (very chipped teeth from who squeezes his cheeks hard) and said to me: "I liked how it was in the first movie so much that I decided to repeat it, and it turned out even better!". Pro Bressoniano, he has a book dedicated to transcendental cinema where he analyzes the work of Dreyer, Ozu and Bresson; Schrader's best characters, like Travis Bickle (Taxi Driver) o John LeTour (Possibility of escape), they are samurai -de Melville, no de Kurosawa-, silent men, haunted by a past of violent who carry out the day to day as a gesture of continuous repetition hoping, if they are lucky, that one day the epiphany will reach them.
How big has been my surprise, how big has been my cinephile enjoyment, to see in the Sala Grande of the Venice Film Festival his latest film The Card Counter, story of a new modern samurai, a former military torturer and therefore a former prisoner, who spends his days zipping the US through its casinos, having learned to count cards while in jail. William Tell (great name) who is given life by an Oscar Isaac with minimal gestures -if you have seen that wonder called The most violent year (2014) you will know what I am talking about: it's like seeing Al Pacino in the 70– delivered to a life in continuous repetition: car, motel, casino, Black Jack table and all over again. He does not talk to anyone, or almost anyone, he does not try to break the bank, only to throw away with what he is wearing, while writing a diary that we listen to in off where he explains in detail how that makes money works in places where people normally , it is ruined. The twist of the film comes when he is presented with a young man (Tye Sheridan, nothing to do with how we saw him in Ready Player One (2018)), the son of William's military companion who took his own life unable to accept the horrors committed. in the war, and tells him that he has found his chief torturer-instructor (Willem Dafoe) and that he plans to kill him with his help.
Schrader, who just turned 74 and had already shown us that he had recovered all his mojo in the devastating El reverendo (2017), brings out the best of himself, of all his history both as director and screenwriter, and delivers us with The Card Counter (which counts Martin Scorsese among its producers) one of his best movies. At the height of Blue Collar (1978). At the height of Mishima (1985). At the height of Affliction (1997). Slow rhythm that keeps growing in intensity in an elliptical text with continuous fades to black, the feeling of doom is taking over The Card Counter as its protagonist is entangled in a great last dream that has little to do with winning the poker tournament he is playing. Schrader surprises us with flash-backs distorsionados a Abu Ghraib, rebuilt with impossible angles, as if the memories were not able to take a clear shape in the face of so much horror. While our samurai is slowly cooking in this masterpiece of contemporary film noir until that point of no return is reached where ethics prevails over cunning. Schrader, in another immaculate, superb gesture, leaves us out of the climax of the film, to launch into that ending that, as I've said before, reconnect with Pickpocket, he sews his work again in a gesture as radical as when Howard Hawks remade Río Bravo (1959) in El Dorado (1966), and leaves us a final shot sustained to the unspeakable, a place where only the best (transcendental) filmmakers in history have been able to reach.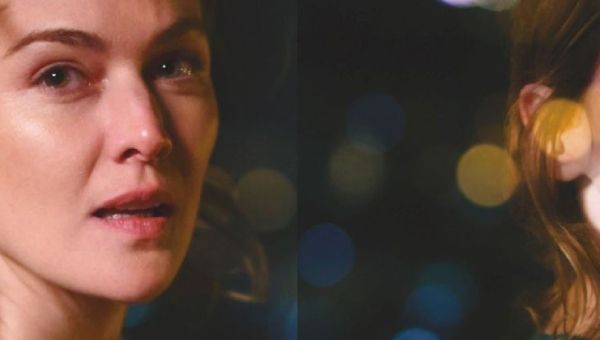 We go with another joy. In the section Giornate Degli Autori has presented his first fiction feature the Catalan filmmaker Juanjo Giménez, whose previous work, the short film Timecode (2016), made history by winning the Palme d'Or at the Cannes Film Festival in addition to winning the corresponding Oscar nomination. Her film, Tres, features a sound editor (Marta Nieto) whose life turns upside down when she begins to desynchronize the audio from her brain. Put more clearly: sounds are late. They start out as fractions of a second (two frames, it says in Premiere language) and little by little the delay lengthens until it exceeds the minutes of absence of noise. A spectacular premise that will be complicated until, curiously, connect with Memoria (2021) the last film by Apichatpong Weerasethakul and its protagonist-antenna (Tilda Swinton), and that makes Giménez's work one of the most radical cinematographic filigrees of this year (nothing to do with Apichatpong's slow cinema, on the other hand). In their own way, Three It is pure cinema, or pure cinema audio. Manuel Yáñez said with great vision that it was like seeing De Palma listening to Antonioni from Blow-Up (1966): a very fine work on the use of sound in cinema through its correlation with reality. Clap, whoa, whoa, whoa, clap sound. The second part of the film will talk about the roots of the protagonist, about a past that she will try to reach by listening (with a delay) to tapes that her parents recorded when she was little (Antonioni again). A search for the origins that make the film's emotion rise until it is crowned with a silent shot (how could it be otherwise) really beautiful.
Many Thanks To The following Website For This Valuable Content.
Venice Film Festival Day 7: With 'The Card Counter', Paul Schrader gives us the best film of the Mostra – Film News