One of the most popular festivals in our city is the Choreoscope, that combines two arts as complementary as cinema and dance. After the last edition, which was held almost exclusively on line, this year they bet again on the face-to-face sessions at the Film Library of Catalonia (from today until Friday) and the Maldà (Saturday and Sunday), but also leaving a space so that they can be seen at home through the platform of the movie (from September 20 to October 10). Present eight feature films, more than 50 shorts and a retrospective dedicated to the Belgian dancer and choreographer Wim Vandekeybus. Let's get ready to move to the rhythm that they set us, that this is about to begin.
The inauguration will take place this afternoon with the Spanish-Italian Cursed (8pm), in which a group of actors and actresses start a theater show conceived as a dance marathon inspired by the movie Dance, dance, cursed. An experience with airs of reality show mixing fiction and reality in which, for three years, the group is recorded in their daily life while facing physical and psychological exhaustion, which gives rise to strong tensions. The other feature length that can be seen in the Filmo is the North American Moving stories (tomorrow, 5 pm), with the Battery Dance Company. This documentary focuses on the trip of six dancers from this company to India, Romania, South Korea and Iraq, working with young people who have experienced war, poverty, prejudice, sexual exploitation and harsh trauma as refugees.
At the Maldà headquarters
The Maldà offers two more films on Saturday. The french A secret joy, a secret joy (4pm) deals with the choreographer Nadia Vadori-Gauthier who, shocked after the attack on the satirical magazine Charlie Hebdo in 2015, decided dance every day for a minute, film yourself and share your videos on social networks addressing current issues. Quite a gesture of poetic resistance in these uncertain times. And, in the afternoon (6pm), the classic Romeo and Juliet choreographed by Kenneth MacMillan. The classic story explained in a different language and shown in a way never seen before. A narrative feature film starring William Bracewell and Francesca Hayward along with others artists of the British Royal Ballet.
On Sunday they present in this same room Dancing with birds (4pm), a documentary narrated by British actor Stephen Fry (Peter's friends, Wilde), It is illustrated on the amazing choreographies performed by the birds of paradise displaying their majestic plumage or their impressive courtship routines, to try to find a mate. The other title is Queen & Béjart: Ballet for life, an unusual collaboration between the couturier Gianni Versace and the choreographer Maurice Béjart. Both artists intended pay tribute to legendary singer Freddie Mercury and dancer Jorge Donn, both died AIDS victims in the early 1990s, using both Queen and Mozart themes.
Filmin premieres and retrospective
Filmin will premiere the last two feature films exclusively. The norway Disco follow in the footsteps of a young woman, world champion of disco dance in freestyle that combines this specialty with his pride in belonging to the evangelical church of which her father is a pastor. When forces begin to fail him, his family will turn to a more strict and conservative church. And, to finish, The tales of Beatrix Potter, world famous, but in ballet version with choreographies by Frederick Ashton. It begins with a waltz by a mouse, includes seven stories and ends with a tremendous ending. A delightful movie that can be enjoyed by both adults and children.
The retrospective dedicated to Vandekeybus It will be composed of a dozen titles between short, long and medium-length films. Among them, three screenings at the Filmoteca stand out. The first session will be on Thursday, at 8:00 p.m. and opens with Here after, the story of an isolated community in which a power-mad ruler orders infanticide. The dance serves to express how the characters relive their memories; as if their emotions and traumas were captured in the memory of their bodies. Will follow The last words, inspired by two stories by Julio Cortázar about a screaming merchant who sells his last words to a tyrant.
On Friday, at the same time, it will be the turn of Galloping mind, feature film about twins who are separated at birth. She grows up in a middle-class environment, while her brother frequents a street gang. Their reunion will cause try to find your roots but you won't be able to escape your past. For its part, Filmin offers seven of its works, among which stands out The report Wim: the documentary, signed by his sister Lut, which is a journey through his energetic, poetic and complex universe through a review of his impressive career.
La newsletter de On Barcelona
They say that if you activate this newsletter in front of a mirror at midnight, Pocholo appears and takes you to a party. Ana Sánchez reveals to you the most original plans in Barcelona every week.
Subscribe
The best short films
The short films are divided into five sections. In the first, However, it moves, (Film library, Wednesday, 7 pm) meet the Egyptian Bella, about some young people who go to a mechanical workshop to learn the trade; Before the collide, which captures our fragmented perception of time during the pandemic while exploring dynamics of mutual support and Second seed, which includes terror and dance to question the dumb classic The birth of a nation, who worshiped the Ku Klux Klan, and report their racism. The section And those who were seen dancing were considered crazy by those who could not hear the music. (they couldn't come up with a shorter title) includes noa, about a young woman who stays at home taking care of her mother but dreams of being a dancer; earth is an inspiring triumph story from a choreography by Danish Toke Broni Strandby, while Main Ballet Tank is an imaginative fantasy in which a group of tanks are modified to dance cancan and do twerking. On Thursday, at the Filmoteca, at 5 pm.
The third block is dedicated to asian cinema (Filmoteca, Friday, 5pm and Filmin) with titles such as The kingdom of men, from Hong Kong, in which an individual dreams of being a eunuch admiral and reigning over men or the South Korean God's daughter dances, about a transgender dancer who is recruited to undergo a physical exam for military service. Lovers of oddities have Bizarre (Maldà, Saturday 9pm), in which they will find curious films such as the Canadian They dance with their heads, which starts with the severed head of a choreographer who is held captive by an eagle on a desert island and Out of body, about a boy immersed in an out-of-body experience that makes him lose the perception of who he is and what surrounds him. Finally, in Xerinola (Maldà, Sunday, 6 pm and Filmin) local works that talk about the madness of dancing and its beneficial effects come together. Good examples are Stock, a visual experiment that talks about confinement and the relationship with bodies of diverse capacities, and We imagined a garden, about a plant that was born in a kitchen sink and wanted to continue living. Original, surprising stories that will make us want to keep dancing even more despite the restrictions.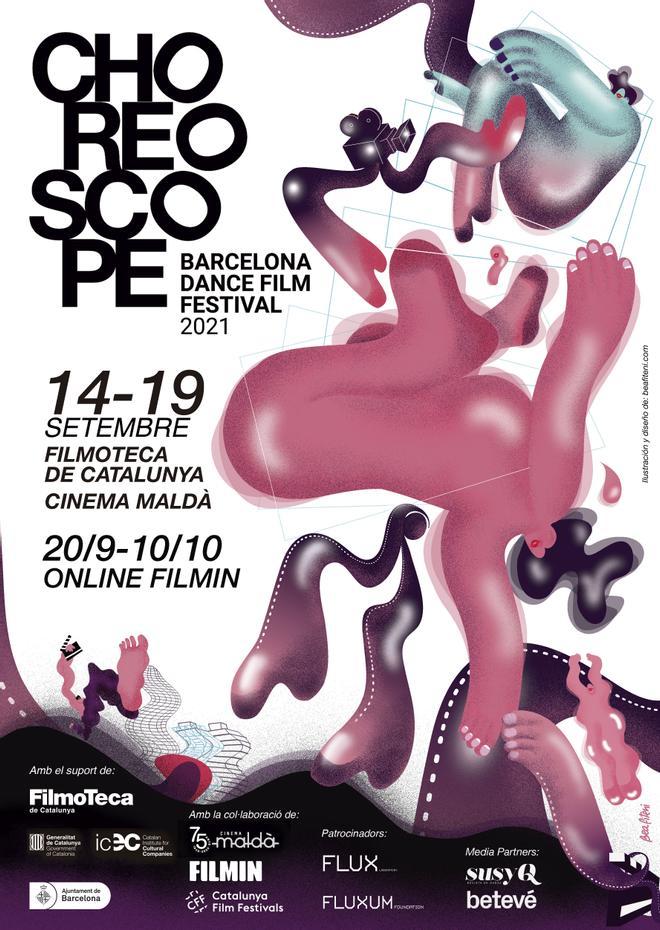 Choreoscope
Where? Film Library (Plaza Salvador Seguí, 1-9), Maldà (Pi, 5) and Filmin.
When? from today until October 10.
Price: according to the session and the place or platform.
More information: Choreoscope.
Related news
.
Many Thanks To The following Website For This Valuable Content.
What to do in Barcelona today, Tuesday, September 14, 2021